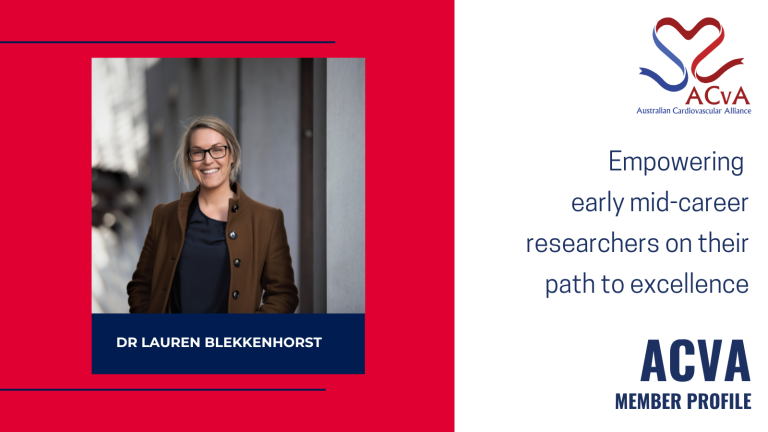 WA-based Dr Lauren Blekkenhorst is optimistic about the future of cardiovascular research.
"I'm hopeful that collectively as a sector we can build a vibrant and supportive cardiovascular research community to reduce the burden cardiovascular disease has on our society and health systems."
She's been an active ACvA member since 2020, looking to support and be part of a national body with a goal and mission that aligned with her own values.
"I wanted the opportunity to contribute and build my capacity as an early career cardiovascular researcher."
Dr Blekkenhorst is a National Health and Medical Research Council of Australia Emerging Leadership Fellow (EL1) and a National Heart Foundation of Australia Post-Doctoral Research Fellow in the Nutrition and Health Innovation Research Institute at Edith Cowan University.
She conducts research in nutrition and cardiovascular health using experimental and observational study designs.
As a member, she's taken part in the ACvA Mentoring Program, EMCR Summit, planning days, workshops and is currently on the ACvA's Emerging Leaders Committee.
"I have developed new collaborations and gained confidence and direction in my career path."
She's also a recent graduate from our CV Champions Program Class of 2023.
"The CV Champs Program was such a valuable experience! It took me out of my comfort zone, got me thinking strategically and expanded my network. Working with a mentor and the advice from all the invited speakers, was definitely a highlight."
You can read more about the CV Champions Class of 2023 and this unique leadership development program HERE.
If you're an early to mid-career researcher, there are plenty of ACvA programs and initiatives you can get involved in. These have been strategically developed to offer relevant experience, professional development and networking opportunities in the cardiovascular and stroke sector. You can find out more HERE.