Cardiovascular disease in Australia
Cardiovascular disease (CVD) is the leading cause of death globally. It encompasses a broad range of conditions, including cardiac diseases, stroke and vascular diseases.
n Australia, one in five deaths are from CVD, resulting in one death every 19 minutes. CVD also accounts for the greatest healthcare expenditure costs, accounting for approximately $11 billion annually in direct health costs to Australia. CVD is also a main contributor to the health gap between Aboriginal and Torres Strait Islander peoples and non-Indigenous Australians.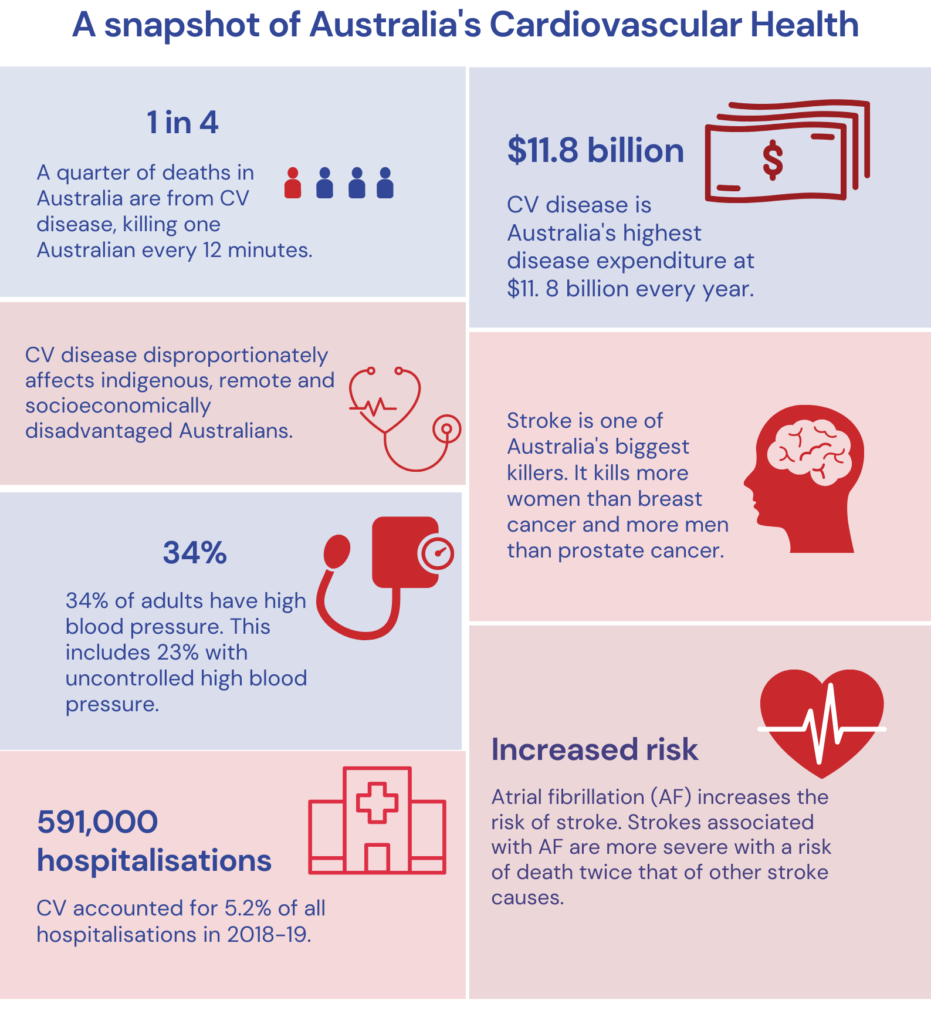 The ACvA is a not-for-profit, incorporated entity established in 2015. We are a member-based organisation representing the interests of a diverse membership which spans individual researchers, research institutes, peak bodies (advocacy groups/consumer groups), and industry members.
We work to bring the cardiovascular research sector together in a whole of pipeline approach, to collaboratively develop solutions to the most pressing areas of need to make a measurable difference to cardiovascular patient outcomes.
Our mission is to deliver transformative change to cardiovascular research and health outcomes by building a thriving cardiovascular ecosystem serving health and the economy.
The ACvA's governance model includes seven strategic flagships that span the translational pipeline, so talented researchers are aligned to the most urgent clinical challenges, and discoveries and innovative approaches to care are translated to the bedside in an accelerated manner.
Since our establishment, we've been busy advocating, collaborating, building networks and capacity in the cardiovascular research sector. Some of our proudest achievements include:
advocacy to the Federal Government, resulting in the MRFF Mission for Cardiovascular Health ($220m/10yr) to create improved health outcomes across prevention, treatment, and recovery from cardiovascular diseases.
establishing the research catalyst program in partnership with Bioplatforms Australia. This collaboration supported $200k in seed funding to six recipients for data acquisition and leveraged a further $4.28m in tier 1 research funding.
building strong partnerships with industry members through mentorships and establishing VentriClinical.

delivering the first national Roundtable to raise the awareness of the impacts of the environment on cardiovascular health.

implementing successful capacity building programs for emerging researchers through programs in mentoring, science communications, commercialisation education and support for grant applications.

commencing the Clinical Themes Initiative to galvanise the cardiovascular sector to develop collaborative research solutions to address unmet needs in coronary artery disease, heart failure, arrhythmias, stroke, and hypertension, providing national leadership in this area.