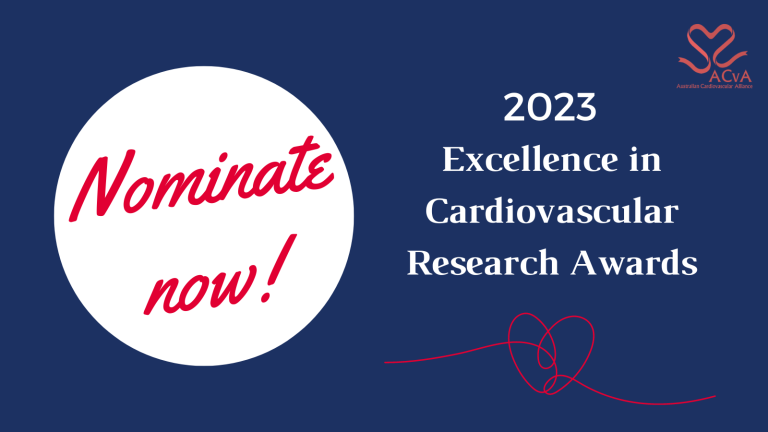 Let's celebrate the exceptional cardiovascular and stroke researchers we have in Australia.
Acknowledge and celebrate the accomplishments of your peers, your team or yourself by nominating for the ACvA Excellence in Cardiovascular Research Awards. The Awards, divided into three distinct categories below, hold a nationwide scope, embracing researchers across all stages of their careers and spanning the entire spectrum of cardiovascular and stroke research.
Nominations close Friday 27 October 2023.
You can find more information, terms and conditions, FAQs and nomination forms HERE.
ACvA Game Changer Award
This award is for a research scientist or a team of researchers whose discovery or idea in the field of cardiovascular disease and stroke over the past 24 months has the potential to significantly influence current thoughts and practices within the field.
Early-mid career researchers (15 years < post-PhD) are strongly encouraged to apply.
ACvA Mentor Award 
This award recognises the individuals who have made significant and sustained contributions to the career development of emerging leaders and to the profession through outstanding mentoring.
This award is based on the experiences and success of the nominee's mentees, not the mentor's personal career achievements. For the purpose of this award, mentoring is defined as the process of guiding, supporting and promoting the training and career development of others. Self nominations are NOT accepted.
ACvA Translation Award 
This award is for a research scientist or a team of researchers who have transformed a research idea or observation from the lab bench to interventions that improve the health of individuals and the community.
A clear journey from concept to implementation or along the translational pathway needs to be demonstrated for this award.