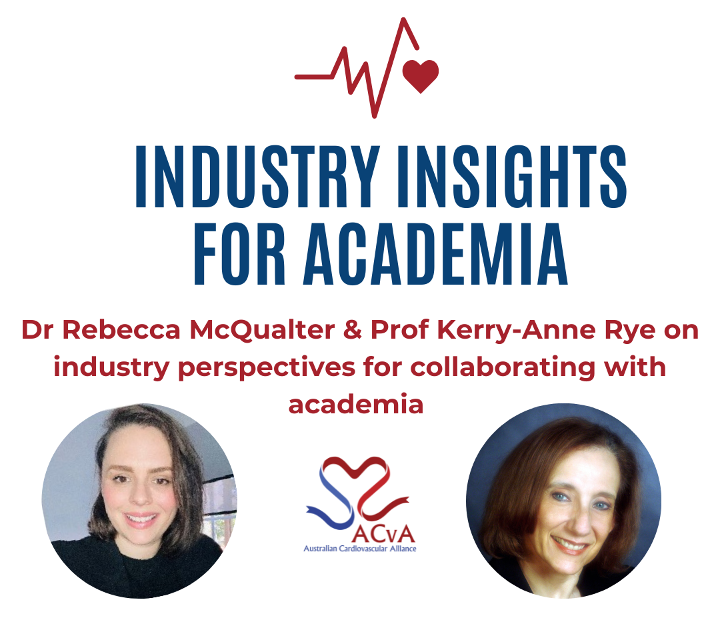 Our annual webinar series are part of an ongoing commitment to capacity building. This year's theme is Industry Insights.
Join us on Thursday 25 August for our next webinar of the series, Industry perspectives for collaborating with academia at the special time of 2:30 – 3:30pm AEST.
Dr Rebecca McQualter and Professor Kerry-Anne Rye will discuss the strengths of collaboration and its ability to accelerate innovation and maximise the reach of research applications into areas of need.
The webinar, which is open to all current ACvA members, will include two 20-minute presentations and a concluding Q&A session.
Dr Rebecca McQualter, Head of Strategic Access, Novartis Australia
Rebecca McQualter has a PhD from Monash University in Regenerative Medicine with expertise in the Stem Cell technologies; joining the academic teaching staff for embryology and chairing the Honours and PhD Student Society. Following her time at Monash University, Rebecca joined industry as a junior sales representative, then quickly moved up the ranks as Medical Advisor. With a strong academic foundation and commercial experience, she was promoted to join the US Oncology Team leading strategic operations for the US business. With great successes in the US, Rebecca returned home to build a start up from the ground up into a thriving business which served an unmet need for patients with rare blood disorders. Currently, Rebecca is leading the Strategic Access efforts at Novartis Pharmaceuticals working across all levels of the health care system to create equitable access to healthcare for all Australians.
Professor Kerry-Anne Rye, School of Medical Sciences, UNSW
Kerry-Anne Rye obtained her PhD from Flinders University of South Australia in 1986 and gained her postdoctoral training at The University of Illinois at Urbana-Champaign. She is a Research Professor, Head of the Cardiometabolic Disease Research Group and Deputy Head (Research) in the School of Medical Sciences, University of New South Wales. She is Editor-in-Chief of the Journal of Lipid Research, an Editorial Board Member of the American Heart Association journal, Arteriosclerosis, Thrombosis and Vascular Biology (ATVB) and the Senior Associate Editor of The Journal of the American Heart Association Professor Rye is the Immediate-Past Chair of the American Heart Association ATVB Council and Chair of the American Heart Association ATVB Council Nominations Committee.