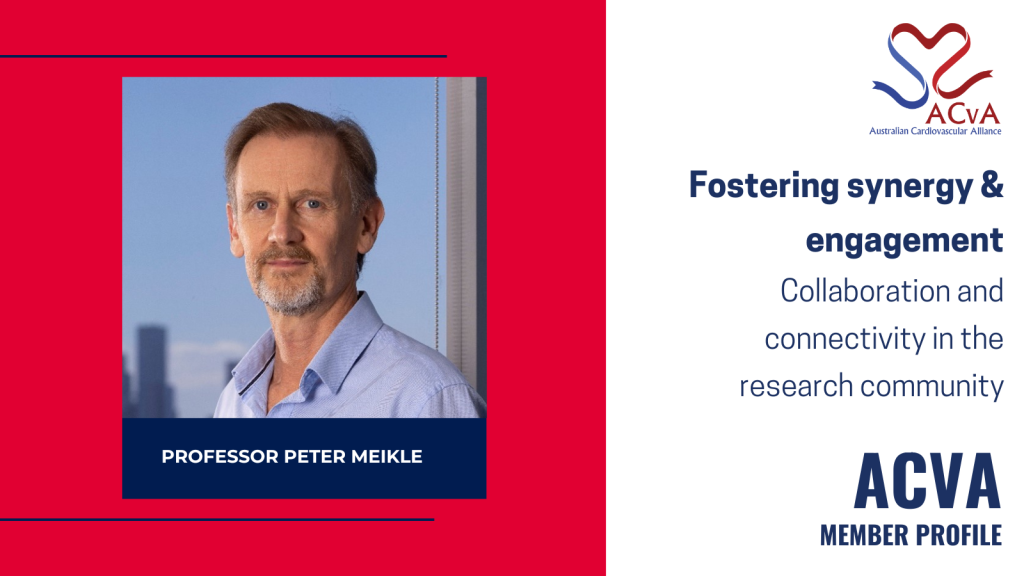 Joining a professional organisation like the ACvA can provide access to valuable resources, networking opportunities, and collaborations with other researchers.
Meet Professor Peter Meikle who has been an ACvA member since the very beginning.
"I joined in 2019 because I wanted to become more involved in the cardiovascular research community."
In addition to leading the Metabolomics Laboratory at the Baker Heart and Diabetes Institute, he is also Head of the Baker Department of Cardiometabolic Research Translation and Implementation and has a particular interest in Precision Medicine and the development of new biomarkers for metabolic health and cardiovascular disease risk.
Since joining, Professor Meikle has become Co-Director of ACvA's Precision Medicine Flagship with Professor Alicia Jenkins, where he has made valuable connections and collaborated with other researchers working in the same area.
"I felt that a broader involvement with the community would present opportunities for collaboration to pursue my research interests."
ACvA has 7 strategic flagships that span the translational pipeline. They were established to bring the research sector together and collaboratively develop solutions to the most pressing areas of need.
One of the highlights of Professor Meikle's involvement with ACvA has been working with the Australian BioCommons and other collaborators on the development of the Australian Cardiovascular disease Data Commons (ACDC), a resource that, when completed will hold records on almost 400,000 Australians, including genomic data for over 50,000 records and lipidomic data for over 40,000.
"The Precision Medicine Flagship has brought together researchers, institutes and companies to build this data commons. This will be an incredibly valuable resource for the cardiovascular research community."
Professor Meikle is looking forward to completing this essential resource over the next few years.
The ACvA Flagships aim to make a measurable difference to cardiovascular patient outcomes by
mapping existing strengths and identifying key priorities to deliver greater focus to, and impact from the Australian cardiovascular research effort.
Any members with specific interests in these areas should keep an eye out for future EOIs or get in touch with us at acva@ozheart.org.