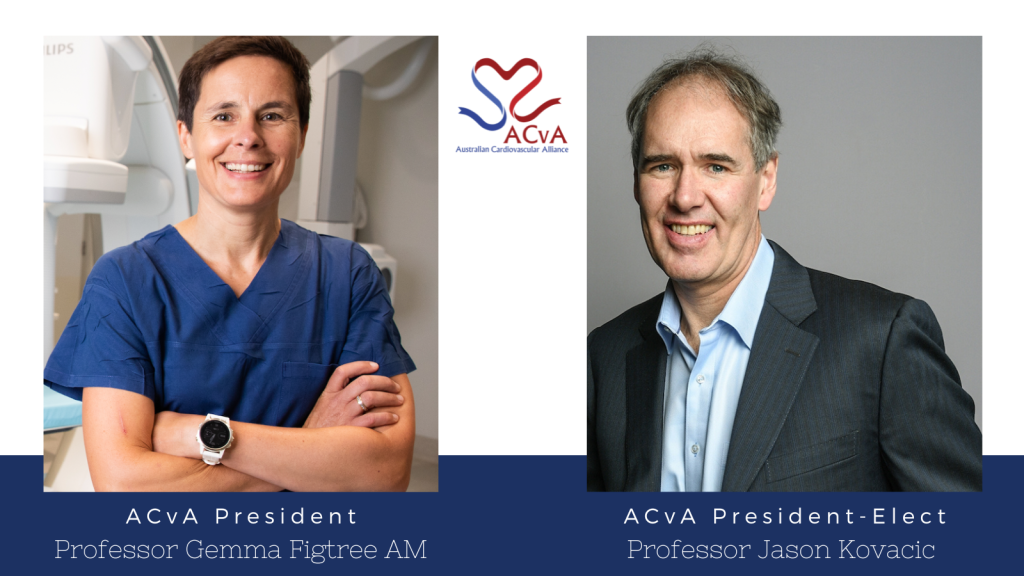 The Australian Cardiovascular Alliance (ACvA) is pleased to announce that Professor Jason Kovacic has been nominated as the next ACvA President, the Board having ratified this decision on 4th May, 2023. Professor Kovacic will be known as President-elect until formally taking up the role of President after the 2023 AGM at the end of this year.
ACvA's current President Professor Gemma Figtree will step down at the end of this year in line with the organisation's maximum term of six years for this role. Professor Figtree will remain on the ACvA Board and will serve in the official capacity of Immediate Past President.
Professor Figtree has shown her leadership, dedication and commitment to the promotion of and advocacy for cardiovascular research as President of the ACvA since 2017. Professor Kovacic, the Board and other senior leaders of the ACvA, have acknowledged Professor Figtree's significant contribution.
Professor Kovacic said, "Gemma has driven a positive culture and pathway for the next generation of researchers and supported the sector to be more impactful, relevant and sustainable. When Gemma stepped in as the President of ACvA almost 6 years ago, it was a recently established entity that was quite small in scale. She has overseen enormous growth in the ACvA, to now be an internationally recognised body that has reshaped the face of cardiovascular research across Australia."
President-elect Professor Kovacic is a cardiologist and physician-scientist. He has been an ACvA Board Director since 2020. He is also the Executive Director of the Victor Chang Cardiac Research Institute, a Cardiologist at St. Vincent's Hospital in Sydney, Professor of Medicine at the Mount Sinai Hospital in New York, and a Board Member of the Association of Australian Medical Research Institutes.
Professor Figtree congratulated the President-elect saying, "Jason will be outstanding as our next President. He is a natural leader and brings with him the experience and network of his varied appointments which will support the national and international connectivity of the ACvA. He will also benefit, as I did, from the outstanding leadership and dedication of the ACvA Flagships, Clinical Themes, Committees and membership who want cardiovascular and stroke research to have maximum impact."
President-elect Professor Jason Kovacic said he is honoured to lead the organisation as President from the end of 2023.
"I look forward to working with Professor Figtree and the rest of the ACvA Board as President-elect and President, as well as working closely with government, health and industry partners to directly address unmet needs in cardiovascular and stroke health."
Media Enquiries
Kerry Doyle PSM OAM, ACvA CEO, Kerry.doyle@ozheart.org
Nina Cullen, ACvA Communications Manager, nina.cullen@ozheart.org